When a dream comes true
Responsible Author: Christophe ANDREEFF | Paris, 11/05/2017, 23:49 Time
USPA NEWS -
The last main tennis master of the season has just ended this last sunday with a surprising winner. The American Jack Sock only 25 years old has been winning the tournament defeating a surprising outsider Filip Krajinovic coming from qualifying in three sets 5/7 6/4 6/1 Like a cherry on the cake, the US player is ending this week with a place in the final London Masters where he will face other seven top players of the year. The trophee Fanti's tree will now get his name on it among historical players as Becker, Agassi, Edberg, and co.
QUEEN MARY II RETURNED ITS NATIVE PLACE
Responsible Author: CHRISTOPHE ANDREEFF | SAINT-NAZAIRE / LOIRE-ATLANTIQUE 44 / FRANCE, 07/08/2017, 00:48 Time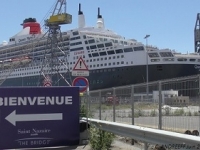 USPA NEWS -
Part Two : A travel back on history full of witnesses and various stories !
Real inspiration to travel with its so specific old style the Queen Mary II is used to cross the Oceans. Getting on board and enjoy going on one of its cruise remains a dream for many people. But sometimes it becomes something magic and unusual that makes your spirit travel throught your eyes only. Transatlantic of the century between Saint-Nazaire and New York has so offered many memorable moments to the crowd coming to admire the Queen Mary II but not only, commemorating first the arrival of the Sammies while first World War in France. Festivities of this exceptionnal event named The Bridge (Watch the article in the section news to know some more) have ended in New York City this beginning of July. But almost 3200 miles away, no one could never forget the enormous impact lived at departure harbour in Saint-Nazaire. Travel was not only on board. Let's rememeber and discover some of these moments witnesses and their stories !
| | |
| --- | --- |
| | Daren Frankish |
| | RAHMA-SOPHIA RACHDI |
| | Ruby BIRD |
| | Yasmina BEDDOU |
| | Aurangzeb Akbar |